Guarantees
Reducing Risk

to
Drive Social Impact

Now, more than ever, philanthropic investors need innovative financial tools to support community resiliency.
The Community Investment Guarantee Pool
An
Innovative & Evolving

Tool

With an intentional focus on racial equity, the Community Investment Guarantee pool has convened a group of foundations and mission-driven investors that are leveraging their balance sheets to backstop high-impact projects across the country.

CIGP demonstrates the impact potential of a self-sustaining unfunded guarantee facility while helping financial intermediaries manage risk. Under this model, foundations and mission-driven investors can unlock essential capital to rebuild economies utilizing the strength of their balance sheets.

CIGP is a pilot program mobilizing new capital for community development finance by investing in three verticals – affordable housing, small business, and climate – through an intentional lens of racial equity and impact. Locus serves as program manager for CIGP.

Learn more about CIGP
$26 million
in guarantees issued
Local Guarantee Programs
Deepening Financing &
Removing Barriers
Traditional lenders typically flow capital through the path of least resistance, and conventional risk metrics can even constrain CDFIs and mission-driven investors. The perceived misalignment between the risk and return profiles of impactful projects leads to those projects going unfinanced.
Guarantees leverage private capital and support impactful projects by mitigating perceived risk. Using this tool, we help our partners unlock and expand capital access in economically excluded communities. Credit enhancements in the form of local guarantees reduce lenders' perceived risk and catalyze capital into impact.
We put this innovative approach to work by partnering with the Ewing Marion Kauffman Foundation and the Kansas City Chamber of Commerce to develop the Kansas City Credit Enhancement Fund. The Fund creates greater access to capital for small businesses in the Kansas City metro area by providing incentives for banks, CDFIs, and other lending institutions to invest in businesses owned and operated by entrepreneurs in low- and moderate-income neighborhoods, especially those who are Black, Indigenous, and people of color.
Let's talk about how guarantees can drive impact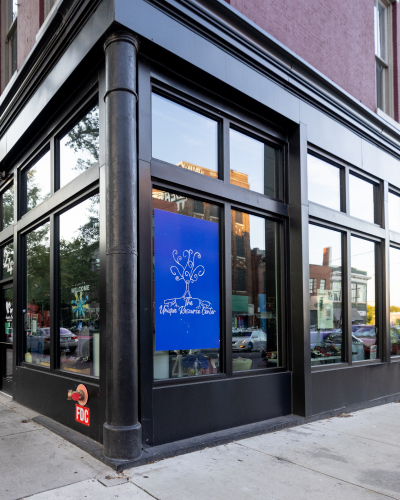 How Guarantees Work
Turning Inputs
into
Outcomes
To address the urgent needs of today and build a sustainable future for tomorrow, we need more investors to engage in community investing and different types of capital to work more effectively and efficiently.
Through this work, we:
Centralize a source of credit enhancement for intermediaries
Accelerate community investment without requiring current endowment liquidity
Mitigate losses by sharing them pro-rata across a pool of investors
Reduce complexity by building capacity to deploy and manage guarantees
Featured Guarantees Stories